What's On
See events for The Picturedrome
Photography credit: Amy Demidow
Rewind (Live PA From Romeo)
The Picturedrome, Northampton.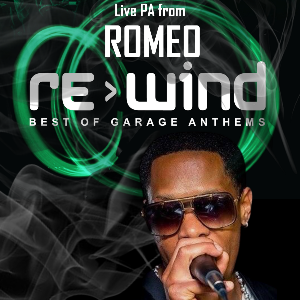 This event is for 18 and over - No refunds will be issued for under 18s.
More information about Rewind (Live PA From Romeo) tickets
Rewind (Live PA From Romeo)
Doors: 8:30pm - 1am
Date: Saturday 15th October
With LIVE PA from Romeo!
The Picturedrome are pleased to bring you an evening with Romeo for our next Rewind event.
Romeo first found fame with the garage group So Solid Crew and enjoyed world wide success in the early 2000. So Solid have been credited for being pioneers in the UK music scene and for bringing the scene to the mainstream.
Romeo released his solo album Solid Love in November 2002, through Relentless records, the label that So Solid had just left for Independiente.
He enjoyed two top 10 singles, "Romeo Dunn'em" which reached No. 3 in the UK Singles Chart in 2002, and secondly a duet with Christina Milian, "It's All Gravy", which reached No. 9 in the UK Singles Chart in the same year.
DJ Meze MAz & Myles D'arcy will also take the stage to bring you another great night of classic garage anthems.
Gotta Get Through This - Daniel Bedingfield
21 Seconds - So Solid Crew
Tell Me It's real (Club Asylum Steppers Mix) - K-Ci & JoJo
Body Groove (feat. Nana) [Mix MC Version] - Architechs
A Little Bit of Luck (Original Mix) - DJ Luck & MC Neat
Imagine (Asylum Remix) - Shola Ama
Ripgroove (Tuff Jam's Groove Dub) - Double 99
Fly Bi (feat. MC Kie & MC Sparks) - Teebone
Right Before My Eyes - N 'n' G
Never Gonna Let You Go - Tina Moore
Closer Than Close (Main Mix) - Rosie Gaines
Deep Inside - Hardrive
What You Want - Industry Standard
Bound 4 Da Reload (Casualty) - Oxide And Neutrino
Something In Your Eyes - Ed Case
I Don't Smoke - DJ Deekline
Just In Case ( - Jaheim
Teardrops - Lovestation
Movin' Too Fast - Artful Dodger & Romina Johnson
Flowers (Sunship Mix) - Sweet Female Attitude
Taboo (feat. Shola Ama) Glamma Kid
Sorry (I Didn't Know) - Monsta Boy
Re-Wind - Craig David
Doolally - Straight From The Heart
DJ Pied Piper & The Masters Of Ceremonies - Do You Really Like It?