What's On
See events for The Picturedrome
Photography credit: Amy Demidow
Synthwave feat.. New Arcades + Plus Support
The Picturedrome, Northampton.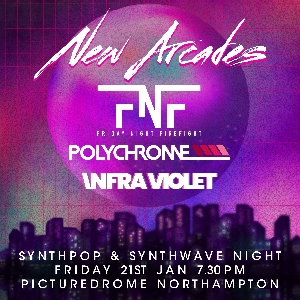 This event is for 18 and over - No refunds will be issued for under 18s.
More information about Synthwave feat.. New Arcades + Plus Support tickets
Synthwave



Date: Friday, 21st January

Doors: 6:30pm

New Arcades (Headliner)
New Arcades are a London based, synth-pop / electronic music duo consisting of Dean Canty and Adam Sullivan, using a mixture of vintage synthesizers, pop melodies and electronic elements to create a nostalgic, 80's inspired sound.
Their music has appeared on films such as 'Already Tomorrow in Hong Kong' and 'A Light Beneath Their Feet' and they have also contributed an exclusive track for the mobile game 'RetroDrive'.
They have previously played various shows in the U.K as well as a live studio session for BBC Radio.
They released their second album, In the Deepest of Dreams, on September 17th 2021 via New Retro Wave Records.
They are currently releasing music through AWAL and New Retro Wave Records.


Friday Night Firefight
A blend of reflective songwriting, 80s stylings and pop punk inspired delivery, Friday Night Firefight catches both aesthetic of SynthWave artists such as The Midnight and the energy of Angels & Airwaves. Friday Night Firefight, from the south coast of the UK, have just released their debut album 'Invisible Kids' through Aztec Records.
Polychrome
Slacker synth-wave refuseniks Polychrome are based in East London. From hearing them you might say they channel the spirit of Electric Youth and the electronic ecstasy of M83, but you'd be wrong. Polychrome write Sega-Tronic Dreamwave and Synthpop, and as huge fans of the Drive Soundtrack, they love 80s style drum kits vintage microphones and retro keyboards.
Polychrome's self-titled debut album has picked up a cult following, with their particular flavour of nostalgic Dreampop proving popular with TV producers and filmmakers. "Final Kiss" features on fashion brand LA Mania's campaigns across Europe, the soundtracks of Netflix's 'Unorthodox' and 'To All the Boys I've Loved Before', and Amazons 'Red Oaks'. Other songs have synced with brands as diverse as Opal and Vogue
Infra Violet
"A record full of heart that others will struggle to match. Stunning. Distinctive, strong, effortless…inspiringly catchy. The next step of Synthwave." 4/5 THE EXPRESS
Infra Violet are a Synth-pop/Indie pop duo based in the UK. A collaboration between producer Toby Campen's 80's inspired synth tracks, and singer-songwriter Beth's intricate guitar & soulful vocals.
Forming in early 2020, the duo already has successful debut releases of their singles 'Polaroid' 'Water' and 'Radio', mastered by Pete Maher (Depeche Mode, U2, The 1975). They've gained regular international radio play including BBC Radio, Phoenix FM & Nightride FM.
'Dream Tether' is their debut album, released to overwhelmingly positive acclaim. Pushing the boundaries of Synthwave by combining singer-songwriter, rock, fingerstyle & EDM influences, Infra Violet have poured everything into an emotional, passionate & bold debut, to drive home the lyrical theme of the album; connection. The unspoken tethers that bind us to the environment, our own inner dreams, and each other. The duo took the last year to explore what it really means when we suddenly lose those connections, and the optimistic uncertainty of how to find our way back, now that so much has already been lost.